Mavis Spencer and Chacco
Del Mar, CA
- Mavis Spencer wrapped up the Showpark Festival Series with two grand prix victories in one week. Coming off of a win in Friday's Markel Insurance Grand Prix, Spencer and Neil Jones Equestrian's Chacco delivered the only clear round in Sunday's 1.50m $25,000 August Festival Grand Prix, designed by Mauricio Garcia of Puerto Rico.
"He's so careful with so much scope that he really helped me out down some of the lines and over the back rails of some of the oxers," Spencer explained. "Friday was my first grand prix win since getting back in the saddle after grooming, so to win two in one week is really exciting. And to do it on two different horses in the same week just goes to show how fortunate I am in the group of horses that I have right now and the people supporting me."
Spencer sported a Blenheim EquiSports embroidered
SmartPak
cooler as she celebrated victory for the second time. She also took home a pair of
EquiFit
MultiTeq Boots,
Roeckl Sports
gloves and an engraved pewter plate.
Spencer and Chacco were the final duo to go, but second and third place finishers Tina Yates and Francie Nilforushan were prepared to jump off prior to her clear finish. Yates rode Highpoint Farm, LLC's Campitello 5 to a four fault finish, and Nilforushan rode Ali Nilforushan's Adoro to the same score but finished just a few seconds behind Yates.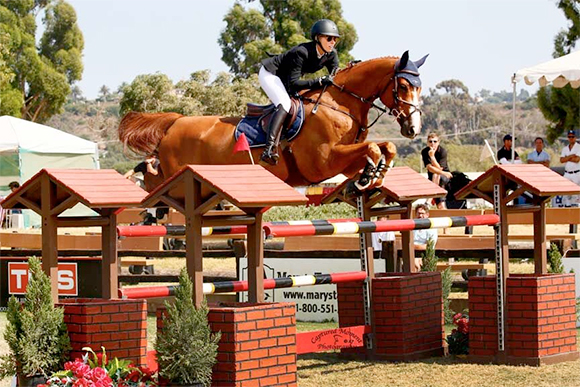 Tina Yates and Campitello 5
The August Festival Grand Prix marked the conclusion of Blenheim EquiSports's Showpark Festival Series. Horse show action will resume the week of August 16th at the Blenheim Summer Classic at the Rancho Mission Viejo Riding Park at San Juan Capistrano.
Mavis Spencer and Chacco with Melissa Brandes and Neil Jones
RESULTS
$25,000 August Festival Grand Prix
Place - Entry Number - Horse - Rider - Owner - Faults/Time
1. 405 - Chacco - Mavis Spencer - Neil Jones Equestrian, Inc. - 0/76.099
2. 276 - Campitello 5 - Tina Yates - Highpoint Farm, LLC - 4/75.782
3. 237 - Adoro - Francie Nilforushan - Ali Nilforushan - 4/81.330
4. 406 - Clochard - Mavis Spencer - Neil Jones Equestrian, Inc. - 8/72.924
5. 408 - Olivia Pope - Mavis Spencer - SCNC Investments - 8/73.150
6. 244 - Chello Z - Josephina Nor Lantzman - Josephina Nor Stables, LLC - 8/73.654
7. 304 - Zelote VDL - Tina Yates - Highpoint Farm, LLC - 8/73.755
8. 115 - Little Gancho - Marc Grock - Moonlite Beach, LLC - 8/75.976
9. 404 - Joviale du Patriote - Jacobo Saaib - Jorge Valenzuela - 16/73.374
10. 456 - Ircos IV - Everardo Hegewisch - Everardo Hegewisch - 20/73.533
11. 422 - SIG Silver Surfer - Shota Ogomori - SIG International - 20/75.920
#BES2017
#ThePlaceToBe