Keri Potter and Bitalica Earn the Grand Prix Blue; Tina Yates and Cicomein VDL Have A Double Victory; Red Bucket Horse Rescue Hosts Pony Races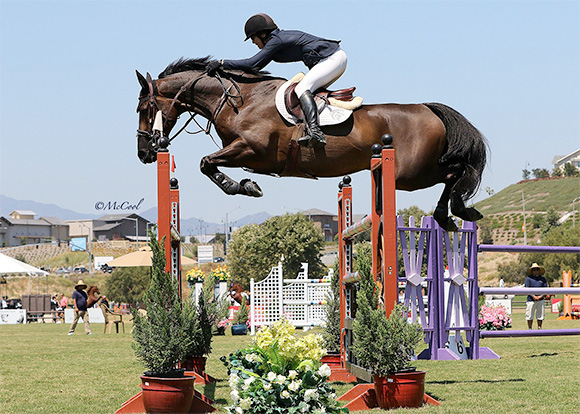 Keri Potter and Bitalica
San Juan Capistrano, CA
- Galloping across the Oaks International Grand Prix Field, Keri Potter and Julia Koetting's Bitalica earned a first place finish in the $30,000 Blenheim June Classic II Grand Prix. In a class of twenty-five entries, just three advanced to the jump-off. Josephina Nor Lantzman aboard her own Chello Z, were last and fastest but had one rail down, leaving Potter and Bitalica in the winning position with their fault-free time of 49.04 seconds. Joie Gatlin rode Jasmine Talley's Rammstein to second place, also double clean in 50.42.
German FEI Level 4 Course Designer Olaf Petersen, Jr. designed a first round track with sixteen efforts that presented competitors with numerous challenges, including a tight time allowed. To encourage riders to jump the newly renovated open water, Petersen Jr. masterfully offered two options for fences 11 to 12. Fence 11 was the open water or a stout oxer and fence 12 was one of two vertical options. It was much easier for riders to stay within the time allowed if they chose to jump the water; and of the twenty-five starters, over half of opted to do so.
Joie Gatlin and Rammstein
Each of the three jump-off riders turned on the heat for the shortened course. First to return, Gatlin executed a clean yet slightly conservative jump-off. Potter then used her horse's need for speed to her advantage.
"He's an unbelievable trier, but he sees a jump and wants to go so he's not always the easiest to control," Potter said of 11-year-old Bitalica. "He can jump a big fence, but right now when it comes to technicality and control I have a little bit of a challenge. I think today was a really good test for him and he proved to come out on top, so that was great."
Potter and Bitalica have been a competitive duo with quite consistent results since March of this year. She noted that Petersen, Jr.'s grand prix course was the most challenging, technical class that they have endeavored. For their win, she took home a pair of
EquiFit
MultiTeq Front Boots,
Roeckl Sports
gloves, and a
SmartPak
cooler. Potter plans to continue showing the talented gelding in California this season.
Keri Potter and Bitalica with Melissa Brandes and Robert Ridland
Tina Yates and Cicomein VDL Win $5,000 1.40m Jumper Classic & $5,000 Interactive Mortgage Under 25 Series Qualifier
Scoring wins in both the $5,000 1.40m Jumper Classic and the $5,000 Interactive Mortgage Under 25 Series Qualifier, which were run concurrently, Tina Yates and Cicomein VDL had the enviable position of last to go in the jump-off. The speedy duo completed a double-clear effort in a time of 46.50 seconds for the win.
Tina Yates and Cicomein VDL
Of the seven riders who qualified for the jump-off, four finished fault-free, and each one was faster than the one before. When Yates blazed through the timers, she was a full 3.78 seconds faster than the second place finisher, whose quick effort had seemed impossible to beat.
"Cici, as we call her, is just naturally quick. Her foot speed is incredibly fast," Yates described of her winning mount. "All I have to do is think about the track, and keep her straight over the jumps so she doesn't cut in when I'm slicing the verticals."
With one double combination and one triple, numerous related distances, and lines that required a variety of stride lengths, the course, also built by Petersen, Jr., was a tough test for the thirty starters. "I thought that the course asked the horses questions in several places," Yates said. "There was a lot of adjusting going on."
In her last year riding in the Interactive Mortgage Under 25 Series, Yates has plans to compete in the Series Final at The Las Vegas National Horse Show in November.
Tina Yates and Cicomein VDL with Melissa Brandes and Evette DeLong
Red Bucket Equine Rescue Rallies Community With Inflatable Pony Races
Throughout the week at the Blenheim June Classic II, Red Bucket Equine Rescue collected donations from exhibitors and guests of the horse show. Barns were invited to sponsor specific Red Bucket horses and participate in an inflatable pony race to represent those horses at the end of the week before the grand prix.
Red Bucket Equine Rescue is committed to saving and turning around the lives of slaughter-bound, abused, abandoned and neglected horses. The organization saves and rehabilitates horses with the goal of restoring their trust in humankind and finding them safe, loving, permanent adoptive homes.
As a Chip in for Charity Partner, Red Bucket Equine Rescue Founder and President Susan Peirce noted, "We really want to acknowledge the philanthropic mindset of Blenheim EquiSports. It takes a village, and the results of our community of horsemen coming together were truly special."
Indeed, the whole horse show community contributed to the fundraising efforts. Ryan Pedigo and his Pedigo Farms generously offered to match all donations made during the week. Peirce recognized Pedigo as an important friend of the Rescue, noting that he often takes their rescued horses into training to help them prepare for their new lives as loved equine partners.
"People are getting really inspired by our work and what we're doing for the horses," Peirce explained as she described her gratitude for and amazement at the powers of the horse community.
Peirce encourages visitors and noted that Red Bucket Equine Rescue offers tours every Sunday afternoon. Visit
RedBucketRescue.org
for more information and opportunities to support and donate.
More excitement to come at the Rancho Mission Viejo Riding Park at San Juan Capistrano next week during the Blenheim June Classic III, starting on Tuesday and Wednesday with The American Tradition of Excellence Equitation Challenge, presented by Whitethorne. Plus show jumpers will vy for prizes in the $10,000 Six Bar Challenge, presented by Park Place Foundation, the $30,000 Markel Insurance Grand Prix, as well as another Interactive Mortgage Under 25 Series Qualifier.
RESULTS
$30,000 Blenheim June Classic II Grand Prix
Place - Horse - Rider - Owner - Faults/Time
1. 378 - Bitalica - Keri Potter - Julia Koetting - 0/0/49.039
2. 477 - Rammstein - Joie Gatlin - Jasmine Talley - 0/0/50.416
3. 768 - Chello Z - Josephina Nor Lantzman - Josephina Nor Stables LLC - 0/4/47.093
4. 473 - Damian - Chandler Meadows - Chandler Meadows - 1/82.174
5. 341 - LEGIS Venice - Jenni Mcallister - Legisequine.com - 2/83.519
6. 251 - NJK No Regret - Nicole Haunert - NJK Show Jumpers, Inc. - 4/77.250
7. 935 - Insouci S - Mavis Spencer - Neil Jones Equestrian, Inc. - 4/77.919
8. 261 - IRCOS IV - Everardo Hegewisch - Everardo Hegewisch - 4/78.357
9. 519 - Cetello - Katelyn Edwards - Mountain View West Farm LLC - 4/80.004
10. 653 - Dee Jee - Nayel Nassar - Nayel Nassar - 5/82.109
11. 273 - Zanzibar - Jill Humphrey - Jh Sporthorses - 6/83.163
12. 471 - Solos Consept - Laura Hite - Laura Hite - 7/84.017
$5,000 Interactive Mortgage Under 25 Series Qualifier
Place - Horse - Rider - Owner - Faults/Time
1. 726 - Cicomein VDL - Tina Yates - HKC Collection LLC - 0/0/46.949
2. 510 - Di Caprio RV - Hannah Heidegger - Monarch International - 0/0/50.810
3. 776 - Durango VDL - Tina Yates - ACE Equestrian - 4/73.554
4. 774 - Caesar - Tina Yates - ACE Equestrian- 4/75.310
5. 935 - Insouci S - Mavis Spencer - Neil Jones Equestrian, Inc. - 5/75.393
6. 941 - Olivia Pope - Mavis Spencer - SCNC Investments - 4/75.941
7. 473 - Damian - Chandler Meadows - Chandler Meadows - 4/76.167
8. 672 - Spar Colt - Kayla Savard - Kayla Savard - 4/80.688