San Juan Capistrano's Robert Ridland leads U.S. Olympic equestrian jumping team to silver medal in Rio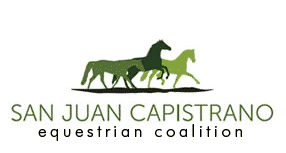 (San Juan Capistrano, Calif.)
- The city-owned Rancho Mission Viejo Riding Park at San Juan Capistrano holds a special spot of significance in this summer's Olympic Games in Rio, where the U.S. Show Jumping Team just won the Silver Medal.
It's not only the spot where the 2000 and 2004 U.S. Show Jumping and 2004 and 2008 U.S. Dressage Olympic Trials were held, it's also home to ten weeks of horse shows, produced by one of the nation's top horse show management companies, Blenheim EquiSports. And it's all under the leadership of Blenheim EquiSports' President and current U.S Show Jumping Olympic Coach Robert Ridland.
"From trail riding to high performance sport, San Juan Capistrano is such a special place for equestrians," Ridland said. "The Riding Park is an ideal location for competitors of all levels, as well as for fans. It's a perfect place to watch show jumping in a beautiful setting, where admission and parking are free."
Everyone is invited to a community celebration at the park this Sunday as Ridland returns home from Rio. The welcoming party begins at 2:15 p.m.; the Markel Insurance Grand Prix will follow the presentation.
"It will be a great celebration for San Juan Capistrano, Orange County and all of Southern California," said City Councilman Sam Allevato, a dedicated equestrian. "It's a wonderful tribute to our equestrian heritage to be able to be represented on the world stage. I congratulate Coach Ridland and the entire team for this outstanding achievement."
The Riding Park has hosted scores of Olympians in their quest for the Games. The gorgeous Oaks International Grand Prix Field, located at the Riding Park, played an important role in U.S. Silver Medal Team Member Lucy Davis's development as a rider. She spent many of her junior rider years competing on the grounds, and she earned one of her first grand prix wins there as a teenager. Now in her early twenties, Davis competed as part of the team in Rio aboard Barron, the same horse she competed on in San Juan Capistrano.
This year's U.S. team started their Olympic journey on Sunday, August 14, among 75 horse-and-rider combinations comprising 15 teams. After two days of challenging courses, the Americans finished with a Silver Medal, trailing the Gold medal-winning
team of France by just three faults. Joining California's own Lucy Davis on the team was three-time Olympian McLain Ward. NBC News named Ward as the biggest threat to reigning individual gold medalist Steve Guerdat of Switzerland and said his "copious wins across the U.S. and Europe this year have only proved that he is prepared to put up a fight for an Olympic gold."
The 2016 U.S. Show Jumping Team:
- Mclain Ward, of Brewster, NY, and Double H Farm and Francois Mathy's HH Azur, 2006 Belgian Warmblood mare
- Lucy Davis of Los Angeles, CA, and Old Oak Farm's Barron, a 2004 Belgian Warmblood gelding
- Kent Farrington of Wellington, FL, and Amalaya Investments' Voyeur, a 2002 KWPN gelding
- Beezie Madden of Cazenovia, NY, and Abigail Wexner's Cortes 'C', a 2002 Belgian Warmblood gelding
- Laura Kraut (alternate) of Royal Palm Beach, FL and Old Willow Farms, LLC's Zeremonie, a 2007 Holsteiner mare
A two-time Olympian with extensive governing and coaching expertise in the equestrian niche, Ridland is in his fourth year as the U.S. Show Jumping coach. He brings a wealth of experience to his roles in the equestrian world. Ridland competed in Montreal in 1976 as a member of the U.S. Equestrian Team after serving as a reserve in Munich in 1972. He won the 1971 New York Grand Prix, the 1974 Switzerland Grand Prix, the 1975 Toronto Rothman Grand Prix and the 1976 Tampa Invitational Grand Prix, and he was an NBC television commentator for the 1992 Olympics in Barcelona and the 2004 Olympics in Athens. He designed show jumping courses for the U.S. Olympic Trials in 1992 and 1996, earning the International Federation for Equestrian Sports' Course Designer of the Year award.
As president of Blenheim EquiSports, Ridland leads a company that produced the Olympic Equestrian Show Jumping Trials in 2000 and 2004 as well as the World Cup Finals in Las Vegas in 2000, 2003, 2005, 2007, 2009 and 2015. The company continues to produce horse shows at San Juan Capistrano's Rancho Mission Viejo Riding Park in the spring, summer and fall.
Ridland is a graduate of Yale University and Columbia Law School. Although his job coaching the U.S. Show Jumping Team requires extensive travel, Ridland is equally passionate about both of his companies, Blenheim Facility Management and Blenheim EquiSports, and is involved in all aspects of their operation.
The San Juan Capistrano Equestrian Coalition is devoted to maintaining the standards and infrastructure of San Juan Capistrano's equestrian profile, activities and facilities. Visit us online at sjcec.org for more information, including upcoming events.