Jenny Karazissis and Legacy Are Number One in the $10,000 USHJA International Hunter Derby
Del Mar, CA
- On an ideal Del Mar afternoon, twenty-eight entries galloped onto the green grass field for the $10,000 USHJA International Hunter Derby. The four honorable judges included Carol Dean Porter and Chris Wynn as Panel One, and Jimmy Lee sat with Tony Scarlata for Panel Two.
With four solid high options, flowing lines and a single oxer up the hill, the course designed by Thomas Hern of Plymouth, MA, covered the expanse of the grand prix field. Going late in the order, Jenny Karazissis and Emily Sukert's gorgeous gray Legacy earned the highest score of the Classic Round, 174, giving the pair a six point lead going into the Handy Round. With a score of 165, Michael Leon and his own Nil Du Buffant Rouge were sitting second. Amateur rider Kaitlyn Van Konynenburg and Comissario rounded out the top three with a score of 161.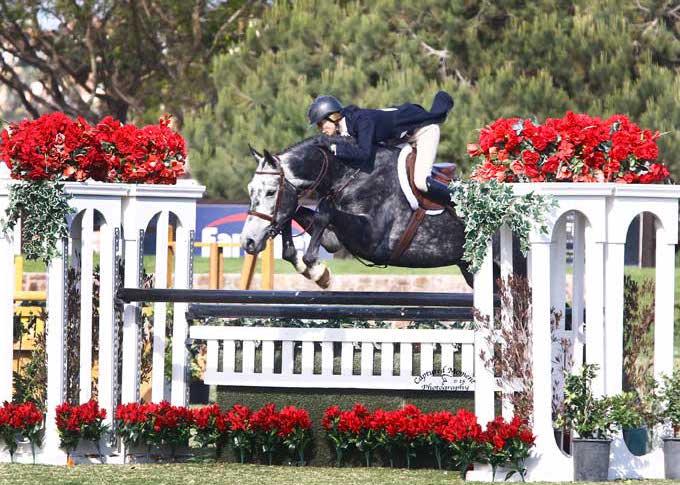 Legacy and Jenny Karazissis
Michael Leon earned another spot in the top twelve aboard Apache Joe (owned by Oz Investments). Also returning with two mounts was veteran Derby rider John French, riding Center Court (owned by Hiller Farms, LLC) and Iwasaki & Reilly's Small Adventure. The winners of this class during the Blenheim Spring Series, Katie Gardner and Starlane Farms, Inc.'s Maldini, were sitting fifth after the first round.
The Handy Round created some shifts in the standings. The course required riders to trot the first fence and hand gallop the final oxer, plus offered some challenging options. If a horse turned better one way or another, the track from fence one to three could be done in the horse's best direction.
Sitting tenth and second to return, thirteen-year-old Brooke Morin and Highpoint Farm, LLC's Boss were having a lovely round, including all four high options, but had a heartbreak rail at the final oxer.
Center Court and John French
Sitting ninth and third to return, French and Center Court rose to the occasion. Taking all four high options and receiving top handy scores, the pair scored a stellar 193 and moved into the lead with a total score of 342. Gardner and Maldini also had a lovely round, jumping all the extra options and with handy style. Their score of 192 and overall total of 342 tied for the lead.
Leon and Karazissis both performed well under the pressure. Nil Du Buffant Rouge executed impressive handiness and took all four high options, scoring a 346 overall and taking over the top position. Legacy was lovely, and although they only took one high option, their overall score of 355 held the top spot.
Nil Du Buffant Rouge and Michael Leon
Blenheim EquiSports also congratulated the other top rides and participants. Top class awards included the
Equitex
Trainer Award that went to Mary Morris of Ivy Gate Farm, the
Balmoral Farm
Owner Award to Emily Sukert, and premier grooming company
Shapley's
awarded the Best Turned Out Award to Davlyn Farms' Cy Young and grooms Hector, Francisco and Nico.
Cy Young with Hector, Francisco and Nico
The Plaid Horse
High Score Junior Hunter Rider Derby Award went to Brooke Morin, and the
One K Helmets
High Score Amateur Hunter Rider Derby Award went to Kaitlyn Van Konynenburg.
Brooke Morin
Legacy and Jenny Karazissis celebrate the win
The Ranch & Coast Classic highlight classes continue this weekend in Del Mar, including the second Interactive Mortgage Horses 10&U Futurity qualifier of the season, and the $60,000 Grand Prix of California on Saturday. Presentations of
SmartPak
Grand Champions and High Score Awards will wrap up Blenheim's second World Champion Hunter Rider week on Sunday.
RESULTS
$10,000 USHJA International Hunter Derby
Place - Entry - Name - Rider - Owner - First Rd/Second Rd/Overall Score
1. 274 - Legacy - Jenny Karazissis - Emily Sukert - 174/181/355
2. 707 - Nil Du Buffant Rouge - Michael Leon - Michael Leon - 165/181/346
3. 176 - Center Court - John French - Hiller Farms, LLC - 149/193/342
4. 440 - Maldini - Katie Gardner - Starlane Farms, Inc. - 150/192/342
5. 264 - Cy Young - Tara Metzner - Davlyn Farms - 176/157.5/333.5
6. 269 - Caravaggio 12 - Michelle Morris - Tierney Smith - 171/153.5/324.5
7. 706 - Apache Joe - Michael Leon - Oz Investments - 173/151/324
8. 244 - Small Adventure - John French - Iwasaki & Reilly - 151/152/303
9. 334 - Boss - Brooke Morin - Highpoint Farm, LLC - 110/149/259
10. 461 - Leticia - Meghan Harris - Shelby Butcher - 97/161/258
11. 114 - Comissario - Kaitlyn Van Konynenburg - Kaitlyn Van Konynenburg - 161/54/215
12. 601 - Cartogold - Kelly Van Vleck - Linda Freeman - 68/145/213
Photos by CapturedMomentPhoto.com

###