Lane Clarke and Balu U Bring Home the Blue in the $40,000 Spring Classic III Grand Prix, presented by The Ritz-Carlton, Laguna Niguel - Susan Hutchison and SIG Firecracker Light Up the Interactive Mortgage Futurity
San Juan Capistrano, CA
- It looked like Karl Cook was going to make it two wins in two days until the final go of the ten horse jump-off. Speed demon Lane Clarke riding Georgy Maskrey-Segesman's Balu U stole the top spot by two seconds for the win in the $40,000 Spring Classic III Grand Prix, presented by The Ritz-Carlton, Laguna Niguel.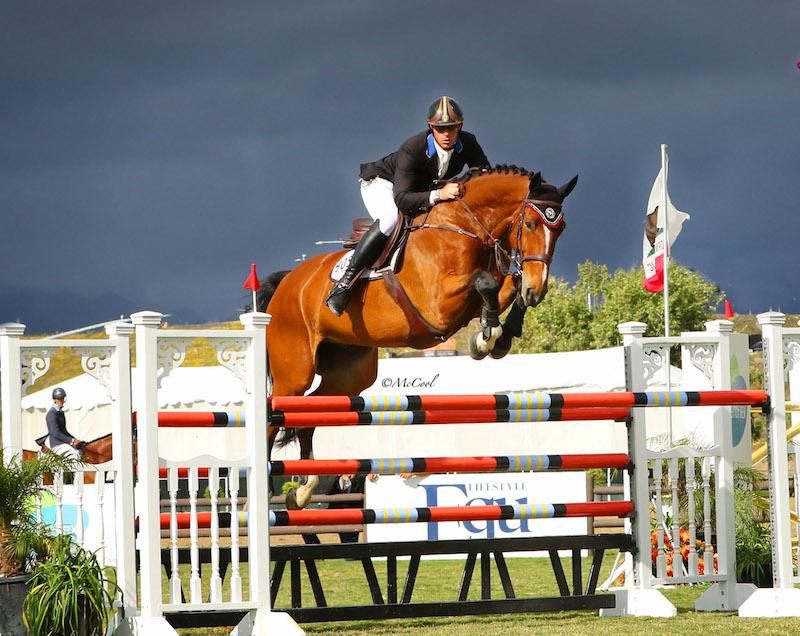 Lane Clarke and Balu U
FEI Course Designer Peter Holmes of Canada set the 1.50m track for the twenty-eight competitors. Initially it was a ladies' game as the first six to go clean were all female. Ultimately, seven women and three men jumped without fault, making it ten total for the jump-off.
Kristin Hardin led the way on Nicole Teague's Firestone, setting the tone with a clean round in 41.86, and taking an efficient route but leaving room to sneak in. A bit of tough luck plagued the next four females - Michelle Parker, Nathalie Cooper, Lindsey Archer, and Nicole Haunert - as they all raced to catch Hardin's blazing time but fell short, coming home with rails. Canadian Brenda Ridell and Silverstar Farms, Ltd.'s Wilson took the conservative route, leaving the rails up but not catching the leader. Austria's Peter Petschenig rode Uppercut Chavannaise (Pam Bilek, owner) double clean, coming in just behind Hardin in 42.79.
After winning the previous class on SIG Firecracker, Susan Hutchison tried to make it two blues and flew around the shortened course on Ziedento (owned by St. Bride's Farm). They had the time, 39.48, but had a heartbreaking late rail for four faults. With Hardin still in the lead, two male riders, both veterans of a fast track, galloped in to try to claim the top spot. Karl Cook and Signe Ostby's Caillou 24 did just as they should, double clean in 41.79, beating Hardin by a hair.
Karl Cook and Caillou 24
The crowd anxiously awaited as Lane Clarke entered the ring on his new ride, Balu U. Clarke started off slow, but had faith in the horse's gigantic stride, leaving out strides in both lines to steal the blue from Cook with a time of 39.78.
Clarke celebrates the win aboard Balu U
Of the 19-hand, German-bred gelding, Clarke said, "I know he has a huge stride. And that he is equally as good off a really big stride as he is off a medium stride. I knew there were fast times, and a couple leave outs that I could do that others couldn't because of the size of my horse. I took the chance, I got a little long to a few and trusted his scope and he did it no problem."
Clarke fits the tall and talented Balu U well. "I've only ridden him for three weeks now. He has a big heart and is as brave as a lion. He makes you believe you can take any risk and I took a few, and it all worked out."
Lane Clarke celebrates with his team, owner Georgy Maskrey-Segesman and representatives from The Ritz-Carlton, Laguna Niguel, EquiFit, inc. and Blenheim EquiSports
Susan Hutchison and SIG Firecracker Light Up the Interactive Mortgage Futurity
The first $7,500 Interactive Mortgage Horses 10 & Under Futurity of this season's series kicked off this afternoon with a win for Susan Hutchison and SIG Firecracker. After the first three horse and rider pairs that galloped in had clean rounds, the rails and time faults began to add up for several entries. Ultimately, three more of the seventeen entries rode fault-free in the first round, for a total of six to return for the jump-off.
Susan Hutchison and SIG Firecraker
Hutchinson qualified two mounts, and was first up on Veronica Tracy's Daify. They set the bar with a quick clean time of 40.05. Everardo Hegewisch aboard his own entry Ircos had fence 3 down for a score of four faults. Similarly, Amy Hess and Topaze Blue (owned by Blue Tree Farms, LLC) scored four, but stopped the clock several seconds faster than Hegewisch. It was Julia Nagler aboard her own Birhan who laid down a fault free and fast ride in 39.85 to take over the lead. Taylor Harris and Cassey 5 followed Nagler, and ended with eight faults. Last to go, Hutchison knew exactly what she and SIG Firecracker had to do to for the blue. Stopping the clock in at 37.01, they sealed the deal.
Five more qualifiers remain before the $20,000 Interactive Mortgage Futurity Series Final at Showpark All Seasons, August 31 - September 4, 2016. The top 25 point earners will be invited to compete.
Susan Hutchison with Evette DeLong representing Interactive Mortgage
and Melissa Brandes of Blenheim EquiSports
The excitement of Blenheim Spring Classic III didn't end at the jumper ring. More than twenty special High Score and Grand Champion awards were presented to hunters in ten divisions during WCHR Week. Congratulations to all!
The highlights of the final week of the Blenheim Spring Series begin on Thursday, April 14th, with a Markel Insurance 1.40m Grand Prix Qualifier and an Interactive Mortgage U25 Series Qualifier running consecutively. On Friday morning, Blenheim will host a USHJA International Hunter Derby, featuring numerous special awards. On Saturday, April 16th, Davidson Communities presents the $50,000 Spring Classic IV Grand Prix. And the second Interactive Mortgage Horses 10 & Under Futurity class will be held on Sunday.
RESULTS

$40,000 Spring Classic III Grand Prix,
presented by The Ritz-Carlton, Laguna Niguel
Place - Entry - Name - Rider - Owner - Faults/Time
1. 905 - Balu U - Lane Clarke - Georgy Maskrey-Segesman - 0/0/39.783
2. 704 - Caillou 24 - Karl Cook - Signe Ostby - 0/0/41.793
3. 522 - Firestone - Kristin Hardin - Nicole Teague - 0/0/41.864
4. 331 - Uppercut Chavannaise - Peter Petschenig - Pam Bilek - 0/0/42.792
5. 615 - Wilson - Brenda Riddell - Silverstar Farms, Ltd. - 0/0/48.335
6. 264 - Ziedento - Susan Hutchison - St. Bride's Farm - 0/4/39.489
7. 354 - Camerone - Lindsay Archer - Rhys Farms, LLC - 0/4/41.461
8. 236 - NJK No Regret - Nicole Haunert - NJK Showjumpers, Inc. - 0/4/43.522
9. 316 - Cupilor - Michelle Parker - Cross Creek Farms, Inc. - 0/8/39.525
10. 449 - Con Spirit - Nathalie Cooper - Acorn Farm Equestrian, LLC - 0/8/41.602
11. 330 - Peter Petschenig - Peter Petschenig - 4/74.913
12. 846 - Amadeus - Devon Bridges - ACE Equestrian - 4/76.848
$7,500 Interactive Mortgage Horses 10 & Under Futurity
Place - Entry - Name - Rider - Owner - Faults/Time
1. 261 - SIG Firecracker - Susan Hutchison - SIG International - 0/0/37.019
2. 183 - Birhan - Julia Nagler - Julia Nagler - 0/0/39.858
3. 255 - Daify - Susan Hutchison - Veronica Tracy - 0/0/40.050
4. 248 - Topaze Blue - Amy Hess - Blue Tree Farms, LLC - 0/4/41.858
5. 242 - Ircos - Everardo Hegewisch - Everardo Hegewisch - 0/4/44.590
6. 502 - Cassey 5 - Taylor Harris - Harris Equestrian, LLC - 0/8/42.189
7. 371 - Ursina Du Perchet - Laura Ware - Laura Ware - 4/74.376
8. 815 - Komtessa - Sophie Verges - Elmwood Farm, LLC - 7/82.985
Photos by McCool Photography

###

Just minutes from the Rancho Mission Viejo Riding Park at San Juan Capistrano,
The Ritz-Carlton, Laguna Niguel
is the perfect place to relax and rejuvenate while enjoying your equestrian experience. With astonishing panoramic views of the Pacific Ocean and a strong heritage of personalized service excellence, the stunning seaside location will captivate your senses and inspire your performance.
Contact the resort's equestrian specialist, Carrie Borg, at 949-240-5022 or carrie.borg@ritzcarlton.com to tailor your visit and follow the ocean breeze from the perfect place to stay while enjoying the perfect place to be in 2016.
Interactive Mortgage
, a new company launched in 2015, finances new home purchases as well as refinancing a homeowner's current loan to help improve their financial position. The company's goal is to bring an interactive experience to the consumer, which the consumer controls, rather than having a salesperson sell them on a particular product. With Interactive Mortgage, the consumer is allowed to be the deciding factor.
Blenheim EquiSports
, an equestrian event management company based in San Juan Capistrano, CA, produces events in three locations: San Juan Capistrano, Del Mar and Las Vegas, NV. The events include USEF "Premier" rated hunter-jumper shows featuring multiple grand prix events, a Longines FEI World Cup™ Jumping North American League event, USHJA International Hunter Derbies, Pony Finals, Medal Finals and more.