A Super Slice Earns the Win for Lane Clarke and Semira de Saulieu in the Markel Insurance Grand Prix
Del Mar, CA - Kicking off three weeks of competition at the Del Mar Horse Park, the Showpark Summer Festival offers two grand prix classes, the first of which was today's $25,000 1.40m Markel Insurance Grand Prix. In a stellar jump-off performance, the win went to veteran pair Australian Lane Clarke and Semira de Saulieu (owned by Brookelane Farms).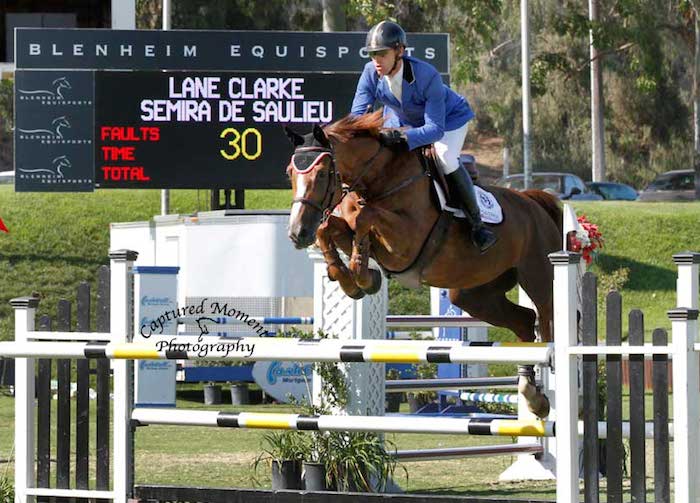 Lane Clarke and Semira de Saulieu
FEI course designer Ivan Tagle of Argentina had the task of developing a track for a field of over forty horses of varying levels. From a skinny jump at fence four, a delicate plank hanging at the top of fence five in a line to a triple combination early in the course, a tricky line from fence seven to a horizontally-striped vertical-vertical in-and-out at 8ab, and a tight line with a triple bar to a vertical to an oxer to finish, he admitted the challenges started early in the course and continued through to the end. In addition, with a tight time allowed, only seven of 41 horses advanced to the jump-off. Each jump came down at least once - several of them, multiple times - and ten entries had time faults. The heartbreak for eighth place finisher, Arsia Ardalan on Chin Chin, was leaving all the jumps in the cups, but being just a touch too slow for a score of two time faults.
First to return in the jump-off was Mexico's Francisco Pasquel on his own Naranjo. Setting the time to beat, Pasquel was double clean in 42.45. He held that lead through the next several attempts.
Then came Clarke and Sermira. Clearly in sync, the pair shaved a full two seconds off Pasquel's time by making a daring slice midway through the jump-off and then carrying a quick pace to the final three obstacles, stopping the clock in 40.20. Slipping into second and pushing Pasquel to third, Jamie Barge and Kylieco's Luebbo were next in, double clear in 42.29.
Jamie Barge and Luebbo
Clarke appreciated the course design. "I think Ivan did a great job. He had over forty horses and only seven went clean. It got people a little bit with the time, got people a little bit with different jumps, but no one had a disaster. He's been building great all week." He continued, "It was pretty darn big, but he didn't have a choice."
The lovely Semira de Saulieu shines with Clarke aboard. He knew what he had to do for the win, even if it was a different track than the other competitors. "I don't walk numbers in lines that have so many options especially off an angle, because it depends where I land off the angle. I rode the handiest track I thought I could ride and leave all the jumps up and trust my mare, and she did what she does."
Knowing he could slice the jump, Clarke's plan continued with an extra stride to the in-and-out that followed. This decision paid off, as the pair were fault free and fast.
As always, Clarke was appreciative. "I have a lot of people to thank - there's a big team behind me. I would love to thank the Borgers family for Semira. I would love to thank Semira. Mickey [Hayden] because he coaches me. Pepe [Ortiz] for taking such great care of this mare. And all of my clients and friends who support me."
Lane Clarke celebrates another win with Semira de Saulieu
The Showpark Summer Festival continues with the $15,000 CashCall Mortgage Futurity Final on Saturday, and the $30,000 Summer Festival Grand Prix presented by SmartPak on Sunday.
RESULTS

$25,000 Markel Insurance Grand Prix
Place - Entry Number - Horse - Rider - Owner - Faults/Time
1. 388 - Semira de Saulieu - Lane Clarke - Brookelane Farms - 0/0/40.201
2. 109 - Luebbo - Jamie Barge - Kylieco - 0/0/42.295
3. 772 - Naranjo - Francisco Pasquel - Francisco Pasquel - 0/0/42.455
4. 591 - NJK No Regret - Nicole Haunert - NJK Show Jumpers, IBC - 0/0/43.897
5. 444 - Unlimited - Josephina Nor Lantzman - Josephina Nor Stables, LLC - 0/4/45.303
6. 132 - Domino - Saree Solanki - Tomboy Farms - 0/4/45.543
7. 578 - Churchill - Nicole Haunert - Paul Haunert - 0/8/43.776
8. 741 - Chin Chin - Arsia Ardalan - Tara Ardalan - 2/79.999
9. 693 - Eminent - Mandy Porter - David Murdoch - 4/73.826
10. 245 - Ziedento - Susan Hutchison - St. Bride's Farm - 4/74.445
11. 938 - Pacifico - Eduardo Sanchez Navarro - Eduardo Sanchez Navarro - 4/74.768
12. 911 - Taxo de la Nutria - Arturo Parada Vallejo - Arturo Parada Vallejo - 4/75.635
Photos by
CapturedMomentPhoto.com