Nathalie Manning and Con Spirit Sail Away with a Grand Prix Win - Markel Insurance Grand Prix Series Continues to Award Rising Stars
San Juan Capistrano, CA
- The $30,000 Markel Insurance Grand Prix at the Blenheim Red, White, & Blue Classic finished in style as Nathalie Manning won her first Grand Prix blue aboard her own Con Spirit. The pair were the only double clean of the day.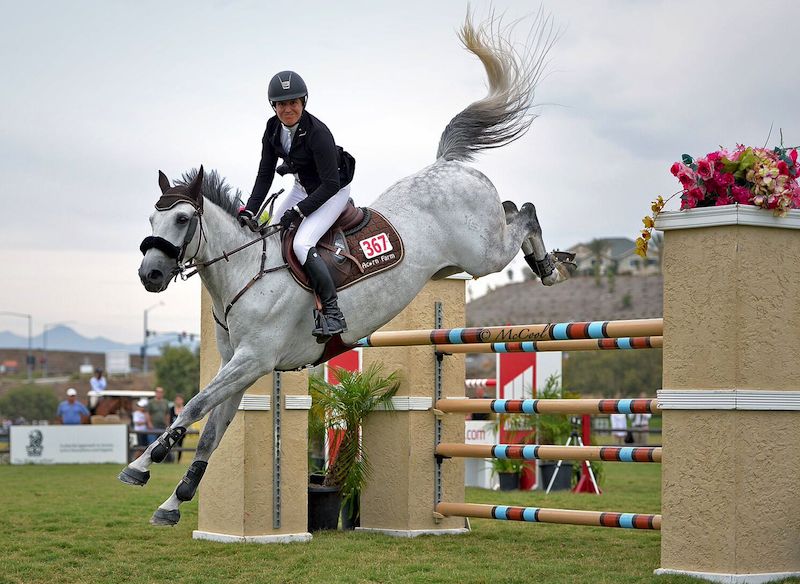 Nathalie Manning and Con Spirit
The class included future show jumping stars such as sixteen-year-old Sophia Mossman and seventeen-year-old Morgan Dickerson, both alternates for the North American Junior and Young Riders Championships this July, as well as riders with impressive miles, like Mexico's Eduardo Sanchez Navarro and American Michelle Rodal. A strong local contingent also competed, including last week's Markel Insurance Grand Prix winner, Marc Grock, and the 1.40m event once again offered another solid yet not overwhelming grand prix opportunity.
In 2014, the wildly successful Markel Insurance 1.40m Grand Prix Series hosted classes with up to 96 entries and a competitive final at the Las Vegas National. Returning as the sponsor for a second year, Brandon Seger, Director of Equine Operations for Markel, is pleased with the response to these events. "We wanted to do a sponsorship with Blenheim Equisports, and they had the brilliant idea to do this 'meter forty' series. They explained that it would be a class where up and coming riders, as well as amateur riders, could compete with some of the pros," he commented. "And I thought what a cool opportunity to get involved in a class that brings everyone together, and gives them a chance to rise to the occasion."
International course designer Jack Robson's track handled the mix of experience well. With a tight time allowed, two riders finished with only time faults, Rodal on Morgan Hill Partners' Albert II and Jamie Barge on Kyelico's Luebbo.
In a winning round format, faults accrued for the top six scoring riders in the first round carried over to the jump-off. The two riders with time faults returned first, followed by the four who were clean in round one. The first of the four were Manning and Con Spirit who rode fault free in 45.85. The next three attempts, Misti Cassar on Gavin Brodin's Allstar 5, Eduardo Sanchez Navarro on his Pacifico and Jamie Barge aboard Kylieco's Lasse each had rails. Manning galloped away with a double clean victory.
Grinning from ear to ear, the California professional was ecstatic as she came out of the ring. She had huge praise for her nine-year-old mount. "He's perfect," she says of Con Spirit, a horse she got when he was six years old. "I've never had a grand prix horse. And this is our first grand prix win!"
Bringing along another young horse, Manning also won the Six Year Old Jumper Classic today aboard Helium. A pro since 2009, Manning is coached by Michelle Parker and runs Acorn Farm at the nearby Oaks Facility. "I just want to thank Michelle Parker and Salvador Alvarado, Alex Alvarado, and all of Acorn Farm and Guillermo Flores for all their help. I couldn't do it without my team!"
With an entourage of family, friends and clients, Manning was surrounded with smiling faces
Manning and Con Spirit plan to continue in the Grand Prix classes at Showpark this summer. The shows head south to Del Mar in just over two weeks with the Showpark Summer Festival, Racing Festival and August Festival.

RESULTS

$30,000 Markel Insurance Grand Prix
Place - Entry Number - Horse - Rider - Owner - Faults/Time
1. 367 - Con Spirit - Nathalie Manning - Nathalie Manning - 0/0/45.857
2. 406 - Pacifico - Eduardo Sanchez Navarro - Eduardo Sanchez Navarro - 0/4/44.962
3. 512 - Lasse - Jamie Barge - Kylieco - 0/4/48.187
4. 494 - Allstar 5 - Misti Cassar - Gavin Brodin - 0/4/48.277
5. 513 - Luebbo - Jamie Barge - Kyleico - 2/4/45.484
6. 607 - Albert II - Michelle Rodal - Morgan Hill Partners - 1/8/54.150
7. 158 - Caretol - Marc Grock - Moonlite Beach, LLC - 4/76.390
8. 164 - Churchill - Nicole Haunert - Paul Haunert - 4/77.881
9. 311 - Grand Chance - Mattias Ekeroth - Mattias Ekeroth - 4/78.052
10. 257 - Colin - Michelle Kerivan - Michelle Kerivan - 4/78.565
11. 230 - Zola - Sophia Mossman - Sophia Mossman - 5/79.845
12. 242 - Conejito - Carol Wright - Carol Wright - 6/80.957
Photos by
McCool